Passing an English proficiency examination is the most important step in an aspirant's dream to migrate and more often than not candidates reach confusing crossroads on whether to choose one particular English proficiency test over another, such as the most popular dilemma among candidates, whether to take IELTS or PTE. 
PTE is often considered to be easier than IELTS for reading and writing sections whereas IELTS is mostly chosen by candidates stating the easiness provided by the limited question types asked for the examination and also due to the fact that one module assesses only a single skill at a time, unlike PTE. That said, both tests assess the same fundamental language skills, namely listening, reading, writing, and speaking but there is a significant difference in the structure, scoring, strategies and pattern for both of these exams.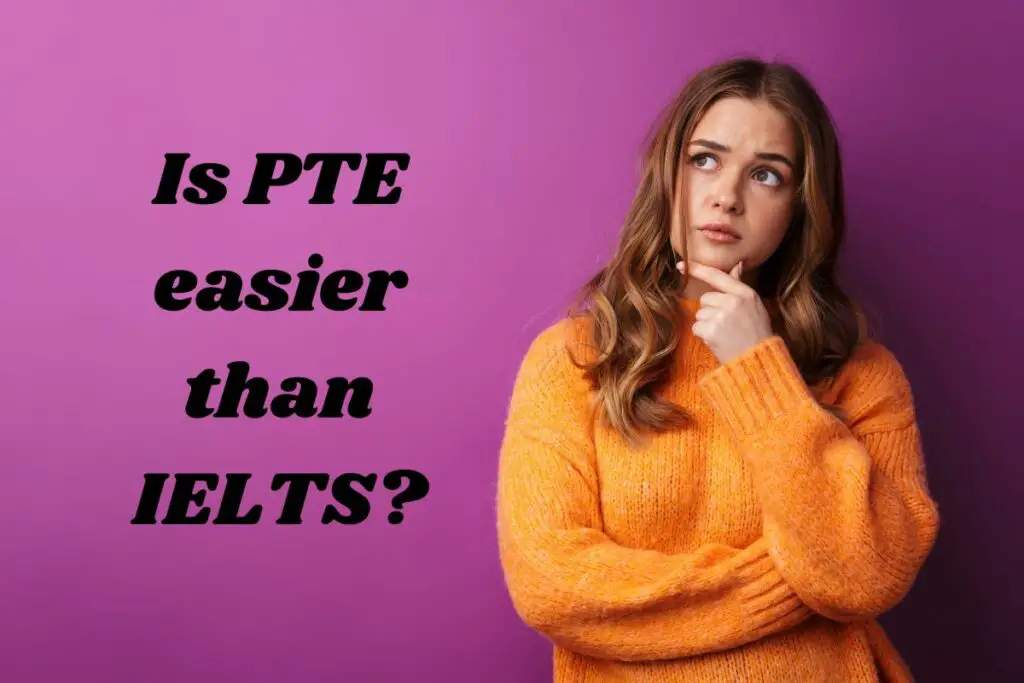 Let us go through a few points where we shall make comparisons about several aspects of both these tests which will eventually give an idea about choosing one of them. 
When deciding between PTE and IELTS, it is important to take into account several key factors common to these examinations. Consider the following points, and I hope they will help you put your confusion to rest.
1. Exam dates 
Candidate will have a deadline within which they would be required to submit their exam scores.  As a result, it is critical to check the availability of exam dates for both of these tests in your country or region. Since IELTS is significantly more accessible and popular than PTE, there are more exam dates and locations available worldwide. As IELTS is far more accessible and popular than PTE, there are more test dates and centres around the world. However, if you do not book the date well in advance ( at least 2 weeks prior) you may not get a slot as opposed to the PTE exam where you could book a date even 2 days in advance and then earn a slot to appear for the examination.
Check the blog to know more about IELTS dates and exam centres in INDIA
2. Results 
If you have a tight deadline and need to submit your results quickly, PTE is a better option because they publish the results in three working days. IELTS, on the other hand, requires 15 working days to post their results.
3. Exam pattern 
The IELTS exam consists of five tasks that assess your English competence, whereas the PTE contains twenty question types. IELTS analyses only individual abilities in each module, for example, the listening module solely tests your listening skills. PTE, on the other hand, is a more comprehensive exam as its tasks are typically designed to assess multiple skills using integrated tasks such as Repeat sentences, which assess your listening as well as speaking skills. 
4. Duration 
The PTE can be completed in a single sitting of 2 hours whereas for the IELTS exam a candidate typically needs two days as the speaking test is held on a different day than the listening, reading and writing test. The speaking test can fall one week prior to or after the LRW examination. The duration of the LRW exam is two and a half hours, and the speaking test lasts 15 minutes.
5. Speaking 
IELTS speaking has a predetermined structure of three parts, and a candidate will be able to score high if they practise well and would be presented with only similar types of questions. Furthermore, the likelihood of questions being repeated is higher in IELTS. In PTE, a candidate's speaking ability is assessed using five different task types, each of which is unique and requires a unique strategy to crack.
In IELTS speaking, a candidate will communicate directly to an actual person, which may result in a more relaxed and realistic discussion than in PTE, where you speak to a machine. However, since you are speaking to a computerised scoring mechanism, the human error component in judging your speaking will be essentially non-existent, and an average speaker can undoubtedly obtain a good score if the appropriate methods are followed.
6. Reading 
IELTS reading is considered to be a tough module by many candidates as the reading passages are quite long and sometimes tiring, especially for IELTS Academic. In comparison, the PTE readings are short and mostly vocabulary oriented. Only a single question will be asked based on one passage which is a comfort as you will not get bored searching for multiple answers in the same passage. Reading is one section where it can be argued that PTE is easier compared to IELTS.
7. Exam scoring 
The IELTS exam scoring is simple and straightforward, and candidates can calculate their own score and concurrent band for listening and reading, allowing them to track their own development. Even for the writing and speaking modules, there are parameters and detailed scoring charts available to assist candidates in determining their band score range.
In comparison, PTE scoring is far more sophisticated because it considers two skill sets. The enabling skills which include pronunciation, vocabulary, spelling, oral fluency and so on as well as communicative skills such as listening, reading , writing and speaking. Each question type is scored for different parameters. For instance, the speaking focussed question types are largely graded for content, fluency and pronunciation. Thus it is easier to monitor your current level and progress if you opt for IELTS compared to PTE.
8. Study materials 
There is a vast amount of study material available for both exams. However, IELTS bags the prize for the greatest amount of materials available and if you choose to work out the Cambridge IELTS Exam books, then you will get a clear-cut idea about how the actual exam will be. PTE also offers a wealth of online materials, but fewer books or authentic materials to refer to. Most of the time, you'd have to rely on YouTube teachers.
9. Mode of exam 
The PTE is an exclusive computer-based examination while the IELTS has both pen and paper and computer-based mode. As most people in today's era are tech-savvy, opting PTE or computer-based IELTS would be a more convenient option. That said, there are candidates who feel that a traditional paper-based exam will help them gain a better score as they are accustomed to that pattern of examination and can easily do the note-making highlighting on a paper. Many students also believe that taking the pen and paper format IELTS allows them to better organise their ideas and focus.
10. Writing 
The writing module of PTE consists of two question types, summarise written text where you have to write a 50 to 70 words single sentence summary of an approximately 200-word passage and essay writing, where you should write a 200-300 word essay in 20 minutes. The IELTS also includes two writing tasks:  task one requires you to write a report or a letter in minimum of 150 words and 20 minutes and task two expects you to write a minimum of 250 words essay in 40 minutes.
For the essay part, the effort required for IELTS and PTE is the same. However, summarising written text is a tricky task for which you have to practise a good number of questions to get a knack of it compared to the IELTS task one, which, while requiring more writing, might be deemed easier for candidates who excel at descriptive writing.
11. Purpose of taking the exam 
This is an important factor because if a candidate is planning to obtain a Permanent Residency, work visa or study visa to Australia or New Zealand they are free to take either IELTS or PTE, as both these examinations are accepted by the visa authorities for all of the 3 above-mentioned purposes.  PTE is not accepted in other countries for Permanent Residency or Work Visa reasons, just for study abroad. There are also some institutions in various popular study-abroad destinations that do not accept PTE. It is critical to determine whether PTE is accepted for the plan that you are trying to execute.
12. Personal comfort 
It is important to understand that whatever examination you choose, your comfort and confidence in carrying it out is of critical value. Some candidates who are not so proficient with using a computer will restrain from choosing an exam like the PTE as they may face higher anxiety and stress thinking about the score that they may lose owing to their slower typing speed or a possible error in using the system during the exam. For such aspirants, IELTS pen and paper mode would be the ideal option. Additionally, if you are someone who has the capacity to write descriptively and read voraciously then IELTS is your forte. 
PTE, on the other hand, would be ideal for someone who frequently utilises technology and is open to working or learning in an environment where English is spoken, as fluency is the key to achieving good PTE results. If you are an average speaker with a few grammatical or pronunciation issues but remarkable fluency, you could achieve a high score in the PTE examination.
Conclusion 
Both IELTS and PTE assess a candidate's English proficiency skills, which are required to study or move overseas. Candidate should examine their strong points in their language skills and look at all of the essential facts about both of these examinations before deciding which one they believe will help them achieve a higher score. It is also a good idea to attempt a few sample questions from both examinations and observe your performance, which I believe would be a more realistic manner of determining which of these exams to take. Good Luck!