Nurses are the largest workforce that has been moving to foreign countries for decades, and the UK has been one of the most popular destinations for nurses over the last five years. For work visa purposes, a nursing professional has to submit relevant English proficiency test scores.
Currently, the PTE is not approved in the UK for the Nursing registration process. For this purpose, NMC UK accepts either IELTS or OET. Canada, New Zealand, Ireland, and Germany also do not accept PTE for registration. However, if you plan to study nursing in the UK, PTE Academic is recognized by many reputable universities as a genuine English proficiency certificate.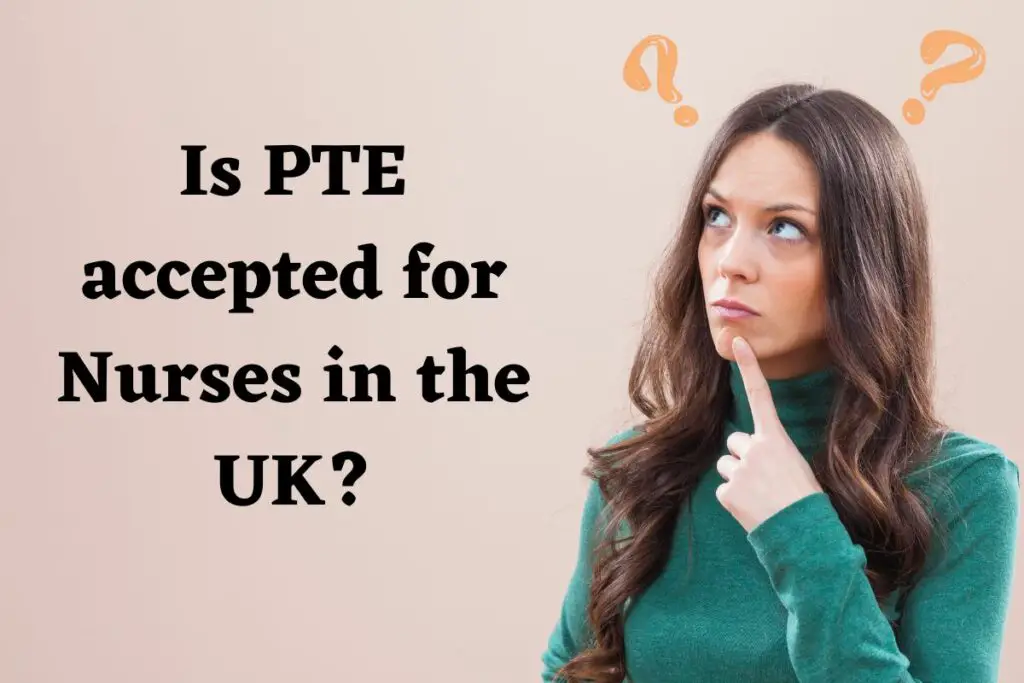 There are two other countries that currently accept PTE for Nursing registration purposes:
1. Australia 
If you are a Nurse seeking a work visa or permanent residency in Australia, you can submit a valid PTE Academic score because the Australian government accepts PTE Academic results for work visa and migration applications. PTE Academic has been approved by the Australian Nursing and Midwifery Accreditation Council (ANMAC) as an acceptable language test for nurses and midwives applying for a migration skills assessment.
In Australia, the minimal PTE score for nurses is above 65 overall and above 65 in each of the four modules: Speaking, Writing, Listening, and Reading. If you do not meet the required score the first time, you can retake the exam.  and the  PTE test scores can even be merged for nursing registration. For example, if you scored an overall 65 in all modules except listening in your first exam, you can combine the results of both exams for your registration process if you score 65 for listening and less for other modules in your second attempt.
PTE Academic is recognized by  the Australian Health Practitioners Regulation Authority (AHPRA) which encompasses The National Boards of: 
Chinese Medicine
Chiropractic
Dental
Medical
Medical Radiation Practice
Nursing and Midwifery
Occupational Therapy
Optometry
 Osteopathy
Paramedicine
Pharmacy
Physiotherapy
Podiatry
Psychology
Why Choose PTE for Australia PR?
Let us look at why PTE is a better option if you want to work as a nurse in Australia:
It is not mandatory for the nurses to take OET or IELTS for migration, they can opt for the PTE for Australian PR.
The PR applications can incur some financial burden, so if you are on a tight budget, then PTE would be a more cost-effective option than OET for nurses, as it costs less. 
PTE would be easier than OET for nurses who have never worked in an English-speaking environment or even in a clinical setting because OET contains medical language that may be difficult to understand in a foreign accent.
PTE Academic test results are available in 48 hours, while IELTS results are released in 14 calendar days and OET results may take much longer. Choosing OET saves you time, and you can use that time to undertake other required migration preparations.
The United States
The United States currently accepts PTE academics from people all over the world who want to work in nursing and other healthcare fields. PTE has been added to the list of approved English Language testing services allowed for international healthcare workers by the Health Resources and Services Administration (HRSA), an agency of the United States Department of Health and Human Services. Workers who want to come to the US to work in one of the specified seven non-physician health professions can now take PTE.
These professions include:
registered nurses
licensed practical or vocational nurses
clinical and medical technicians
Furthermore, PTE is now recognized for licensure considerations by state boards of nursing in the United States.
Following this permission, PTE Academic has been integrated into CGFNS International's system for verification. CGFNS International is an immigration-neutral, non-profit, mission-driven organisation that assists foreign-educated healthcare professionals in living and working in their preferred country by examining and certifying their academic and professional qualifications. They are the only agency authorised by the US Department of Homeland Security to validate the credentials of seven foreign healthcare professionals for occupational visas.
Healthcare workers can take PTE Academic as part of their visa application procedure at one of 87 test centres around the United States, or from a network of 380 centres in 115 countries.
Hopefully, in the future, PTE will be approved for nurse and other healthcare professional registration in other popular foreign destinations too.  Until then, healthcare workers must take IELTS or OET to fulfil their aspirations of working overseas.