Due to the massive demand for nurses in many Western nations, there has been a significant migration of nurses in recent years. Passing the registration examinations is required for gaining permanent employment in all of these countries.
The first step for a nurse seeking a career in another nation is to pass an English Proficiency test, such as the IELTS or OET, and achieve the score that each country demands for nursing jobs. Once you have obtained the required score, the next step is to understand the procedure of becoming a registered nurse in the specific country, as well as the country-specific registration examination that you must pass.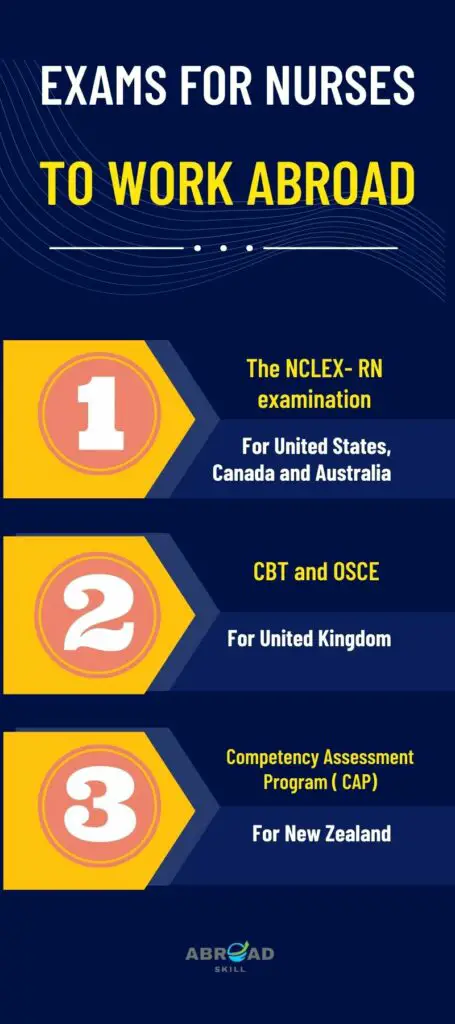 Let us take a closer look at three registered nursing examinations and the countries that require them.
1. The NCLEX- RN examination for the United States, Canada and Australia
The NCLEX is the world's leading licensure exam, and it is delivered using computerised adaptive testing (CAT) technology, assuring a valid and reliable measurement of nursing competency. CAT is a means of increasing the efficiency and accuracy of the exam process by utilising computer technology and measurement.
The NCLEX is a test that determines if a candidate has the bare minimum of knowledge required to provide safe and effective entry-level nursing care. All tasks on the NCLEX test challenge the nurse to apply clinical decision-making and critical thinking principles to nursing practise. The test assesses a nurse's ability and efficiency to perform effectively in a hospital context.
Process of exam registration: 
Application to the Nursing Regulatory Board (NRB): The first step in the registration process is to apply to the state board of nursing in the state in which you intend to practise nursing. Inquire with your state's nursing board about the specific registration process, as requirements may vary.
Registration with Pearson VUE: Once you have gotten confirmation from the board of nursing that you have met all of their state requirements, proceed to register and pay for the NCLEX with Pearson VUE. Fill out the fields completely and follow the registration instructions.
 Authorization to Test: If the licencing board confirms that you are eligible, Pearson VUE will issue you an Authorization to Test (ATT) document. You must test within the validity period of the ATT (usually 90 days). There are no extensions available; otherwise, you must re-register and pay the fee. Your ATT contains the test authorization number, validity date, and candidate identity number.
Make an appointment for your exam.: The following step is to set up a Pearson VUE testing date, time, and location. The NCLEX will be given at a testing facility; you can arrange an exam online or by phone. You will receive an email confirmation of your appointment, which will include the date and time you choose as well as directions to the testing centre.
 On Exam Day: Attendees must be at the examination centre at least 30 minutes before the exam hour. You must have your ATT and an acceptable form of identification (driver's licence, passport, etc.) that is current, includes your photo and signature, and is valid.
Processing Results: The board of nursing will send you your official results in six weeks. The entire registration process for the NCLEX examination will take between 6 and 9 months. If there is a delay between the verification of the credentials, this time might be extended by up to two years.
The length of examination
The NCLEX-RN is a computerised adaptive test with a flexible length that can range from 75 to 145 items. 15 of these items are non-scored pretest items. The time restriction for this examination is five hours, regardless of the amount of items administered. However, there is an optional break after 2 hours of testing, and another optional break after 3.5 hours of testing. The examination schedule includes an introductory screen, all optional breaks, and the examination.
The candidate's responses to the items decide the length of the examination. Candidates will receive a varied number of items and hence utilise a different amount of time depending on their specific pattern of correct and erroneous responses. The candidate should choose and maintain a suitable pace that will allow them to finish the examination in the time given. To maintain this speed, it is recommended that the applicant spend around one to two minutes per item.
Passing and Failing 
Three primary conditions control whether or not a candidate passes or fails the NCLEX:
Scenario 1: When the computer is 95% convinced that the candidate's skill is clearly above or plainly below the passing criterion, it will stop administering things.
Scenario 2: The ability levels of certain candidates will be extremely close to the passing criteria. When this happens, the computer keeps administering items until the maximum number of items is reached. If the candidate's final ability assessment exceeds the passing level, he or she passes; otherwise, the candidate fails.
Scenario 3: Run-Out-Of-Time Rule (R.O.O.T.) If the candidate runs out of time before completing the maximum number of items, the computer cannot determine whether the candidate passed or failed with 95% certainty. As a result, an alternate rule must be applied:
If the candidate has not answered the minimum number of items, they will fail. 
 If the candidate has finished the minimum number of items, the exam is scored using the final ability estimate calculated from responses to all completed items.
 If the candidate's final ability estimate is greater than the passing level, the candidate passes; otherwise, the candidate fails.
Fees 
| | US licensure  | Canada Licensure | Australia Licensure |
| --- | --- | --- | --- |
| Registration  | 200 USD | 360 CAD | 200 USD |
| Additional International Scheduling fee (+value added tax where applicable) | 150 USD | 150 CAD | 150USD |
| Change the nursing regulatory body after the registration fee | 50 USD | 50 CAD | Not applicable |
| Licence/registration fee | Contact regulatory body | Contact regulatory body | Contact regulatory body |
For further details of the examination visit https://www.nclex.com/About.page
Recommended articles:
2.  CBT and OSCE for United Kingdom 
The Nursing and Midwifery Council is the UK's independent regulator of nurses and midwives. The NMC conducts competency assessments for nurses trained outside of the European Economic Area. This examination is divided into two parts:
Part 1 – CBT
A computer-based test, or CBT, is a multiple-choice examination designed to assess your skill and knowledge to practise nursing safely in the United Kingdom. The CBT lasts 3 hours, including any breaks from testing, which are optional.
The CBT consists of 115 questions divided into two sections: Part A covers numeracy and Part B covers clinical topics relating to nursing or midwifery. To pass the examination, a candidate must pass both of these sections individually. If you fail one or more parts of the exam, you must retake it.
PART A
PART B
Numeracy test consisting of short-answer questions requiring a numerical answer.15-mark assessment ( 15 drug calculations questions each carrying one mark)No partial credit ( answers will be marked correct or incorrect)30 minutes time-spending a maximum of 2 minutes on each numeracy question. spending a maximum of 1.5 minutes on each multiple-choice question. Current passing score 87% ( candidates must score 13 out of 15)
Theory ( clinical) assessment100 mark assessment2 hour 30 minutes time multiple choice questions with a single right answer. The current pass marks for Part B clinical vary across nursing strands to reflect the different difficulties of the tests. This part will test you on the following areas: Professional values communication and interpersonal skills nursing practice and decision making leadership, management & teamwork
Fees
Part A + Part B = 83 GBP
Resit Part A+ Part B= 83 GBP
Resit Part A only= 50 GBP
Resit Part B only= 70 GBP
Application process for CBT exam
Before beginning the online application procedure, nurses seeking registration in the UK should ensure they have read and understand the prerequisites for registering as a nurse in the UK. Once the NMC has informed you that you must take the test of competence, you can schedule your CBT with Pearson VUE, which offers centres in almost every country around the world. Let's go over the CBT application process step by step:
NMC requests that you book your Test of Competence CBT with Pearson VUE.
Pearson VUE sends email confirmation of account setup.
Log in with your temporary login ID and password.
Select both Parts A and B under 'View Exams.'
Pay the fee at the checkout
Exam results:
The NMC will send you an email 48 hours after you take the exam to let you know whether you passed or failed. You can also see your results by login into the Pearson Vue account you created when you scheduled your exam.
In the event of a CBT failure;
As part of your registration application, the NMC will allow you to take the CBT exam a maximum of three times. However, you must wait at least 10 days between exam sessions. If you are unsuccessful after making all of your allowed attempts, your application will be closed. You'll have to submit a new application and won't be able to take the CBT for at least six months.
Part 2 – OSCE 
The OSCE (nursing or midwifery objective structured clinical examination) is a practical assessment with ten stations to assess additional skills, values and behaviours, and evidence-based practice. The exam lasts three hours. The OSCE is only offered in the United Kingdom, at an approved test centre. The CBT and OSCE can be taken in any order, but the majority of candidates complete the CBT before travelling to the UK to take the OSCE.
There are currently five NMC competence test centres in the UK:
 Leeds Teaching Hospitals NHS Trust
 Northumbria University
 Oxford Brookes University
 Ulster University
 University of Northampton.
The OSCE is intended to examine your ability to apply your professional nursing associate skills and knowledge satisfactorily in the UK. It is set at the level expected of nursing associates when they first begin the profession. This implies you must demonstrate your ability to apply your knowledge to patient care at the level expected of a newly registered nursing associate.
Communication is essential in nursing work and will be evaluated on a continuous basis during the OSCE. They examine the candidate's whole spectrum of communication abilities (verbal, nonverbal, and written) by seeing the interaction between the candidate and a simulated patient (this might be an actor or a manikin) and also by reviewing your nursing associate documentation in each of these stations.
The OSCE comprises 10 stations:
 Three scenario based stations  (assessment, implementation and evaluation)
Five skill stations (each skill station will last for up to 12 minutes with a short break allowed between the stations)
Two written stations ( one assessing professional values and one assessing evidence-based practice)
Fees:
The OSCE examination costs 794 GBP.
If you fail up to seven stations, you will be charged a 50% resit fee (397 GBP)
If you fail at eight or more stations, your resit will be charged at full price (794 GBP)
For more information visit https://www.nmc.org.uk/registration/joining-the-register/toc/overview/toc-review/

3. Competency Assessment Program ( CAP) for New Zealand
If you are an internationally registered nurse who met the Nursing Council of New Zealand's first standards. During this theoretical and practical study, you will obtain the specialised knowledge required to work as part of a healthcare team in New Zealand. You will receive the Certificate in Professional Practice for Registered Nurses if you successfully complete the course and demonstrate your ability to meet the Nursing Council of New Zealand competencies as a Registered Nurse scope of practice.
The CAP is an 8-week full-time programme offered on campus at many institutes in New Zealand. This curriculum consists of 10 days of theory followed by 240 hours of clinical practice (six weeks). The theory and clinical courses must be completed in at least eight weeks and at most nine weeks. The programme costs roughly $9,284 NZD.If you are unsuccessful, the Nursing Council allows one re-enrolment in the clinical course.
Entry requirement for the CAP course:
A recognised full time degree in Nursing
provide the original written notification from the Nursing Council of the requirement to complete a Competency Assessment Programme before registration
have at least two years' experience as a registered nurse, within the last five years
provide a Criminal Conviction History Report
provide a CV detailing your professional nursing experience as this will help us negotiate an appropriate clinical placement for you
Provide two referee reports (one from your most recent employer)
Provide a cover letter outlining your motivation for pursuing this programme as well as any skills and expertise.
For more information visit https://www.nursingcouncil.org.nz/Public/Education/Competence_assessment_programmes/NCNZ